5 Random Items Your Airbnb Needs
Once your guests have checked in, packed there stuff and acclimated to their new environment, this is where your review process begins. This is when they will be reaching for the remote to the tv, looking for a teapot to warm up water. Each missing item from your Airbnb can degrade the guest's experience. Cozy Oasis has created a starter manual for hosts. But here are the top 5 items that can make or break your guests experience.
1. Coffee grounds and Tea bags
Imagine this, you rushed from the airport to get to your Airbnb. You got checked-in, unpacked your bags and you are ready to explore the city. After hours of roaming the streets uncovering the hidden gems 'Insider Food' showcases you head 'home'. Tired, satisfied and content. You wake up the next morning a little groggy and out of your element. Your feet swing off the bed and you shuffle over to the kitchen. You open the cabinet doors looking for a mug for your coffee, you open a drawer to stir the sugar, lastly you fill the coffee with water. Then you realize you are missing the best part...... the coffee grounds. After searching every cabinet and drawer you realize your host did not provide you with coffee grounds. How does this feel? Not so good! Don't do this to your guests.
2. Can/bottle opener
Visiting a city can be expensive, so you choose to stay at an Airbnb. You want to save some cash for tours, and gifts shops so you bring home souvenirs to the family. Another way to save money is to go grocery shopping. Get some bread, milk and maybe even some cheese. You think about all the bars and restaurants that the city has to offer but grocery shopping is a more affordable choice.​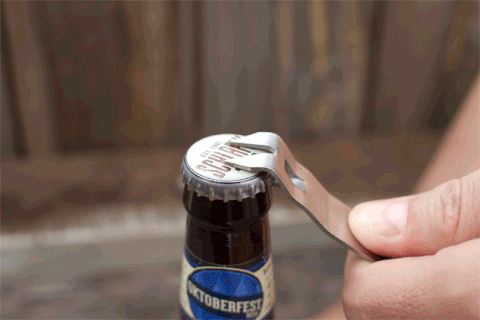 ​You are just glad to have made it here, it has been a dream destination for years. Once you get 'home', you unpack your groceries and neatly store them in the fridge. You turn on the stove and place a frying pan with oil to get dinner started, you have all the ingredients. You then reach into your bag for some cold beer and pull the drawer open in search for the bottle opener. Once again, your host opted out of providing one. No coffee in the morning and no beer at night. Bummer!
3. Microwave
Mark and Sally paid a pretty penny to stay at listing in a hot neighborhood. They made plans to visit at least 3 different pizza spots because this is the only city in America that knows how to make pizza. (True story). Some people even say that this mystical pizza from a great city tastes better the next day. Pizza for breakfast???!! Yes, it is that good. Mark is wakes up the next day giddy with the thought of delicious piping hot pizza. He dances a jig reminiscent of Kevin Bacon in the 80's all the way to the kitchen. Mark swings open the fridge to retrieve his treasured slice of pizza. You know how this ends!
I think you are getting flow of this article. Review the last 3 must-haves and make sure to look at it from the point of view of a guest.
4. Nightstand in the bedroom
Wallet, keys and cellphone are the three things everyone needs to get through the day. Your guests just travelled for 16 hrs to get here. It's 10pm a night and they are planning to have an early start in the morning. All their clothes and shoes have been folded and stored away. The alarm set on their phone, money is store in their wallet and their keys to their Airbnb is in hand. It would great if they could put their things next to their bed for easy access in the morning.
5. Hand Towels in the Bathroom
You made sure the bathroom was cleaned smelled like flowers. You put out the shell shaped soap you saved for the Pope. The mirror shines bright and the toilet smells like pine cones. Your guests are so grateful for a clean bathroom. The enjoy it so much that they take their time putting on their makeup..... and doing other things. Now it is time for them to wash their hands with that fancy soap. It smells so good they lather twice. They wring their hands and turn around looking for soft fluffy towel that matches the color of the shelled shaped soap. But....
I hope you enjoyed this list. If you want to read more or have questions email us at agent@cozyoasis.nyc.